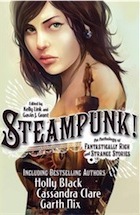 The Guardian and the Observer both served up great reviews of Steampunk! this week—that's the UK cover to the right!
The run in on the Observer review—which makes sense if you read the previous review of a Jill Wolfson novel—is hilarious:
"The only cure for hissy fits this Christmas is to stomp off to a cosy corner with a copy of Steampunk! (Walker £9.99) – and perhaps suggest that your teenager reads it too. This anthology of "fantastically rich and strange stories", edited by Kelly Link and Gavin J Grant, is firmly in the tradition of Jules Verne and HG Wells, and is packed with grotesque automata, devilish toys and tricksy time machines. Kelly Link's own contribution, "The Summer People", adds fairy folk and US backwoods gothic to the mix in a chilling tale. Slam the door very loudly and make sure you're left alone for the duration."
Mal Peet in The Guardian says:
"Steampunk! is a plump and handsome book consisting of 14 stories, two in comic-strip form, by American and Australasian writers, eight of whom are women. It's a delicious buffet for anarchic teenagers whose minds strain at the leash of teen fiction." All right!
1 Comment »